Rainforest vacations packages call for a global tourist appeal. Depths of rainforest and the fauna had always been a powerful tourist draw. In Nat Geo channels and movies, rainforest adventures trigger adrenaline rush faster than any other forms of dare. Rainforests occupy about 6% of terra-firma and accounts for around 50% of life forms.
Doesn't this sound fascinating ringing a bell of beckon to explore the enigma it holds? Rainforests circle the equatorial belt and further on either side from Amazon to the depths of Zaire, from dark forests of Borneo to the mystic greenery of Papua and the spectacular Costa Rica.  It shelters one the most primitive human races and some of the most bizarre animals.
Tourism has made it possible for tourists to relish rainforest trips. Lush accommodations and thrilling treks are custom built along dark inky green herbages. Modernized rainforest vacation packages give tourists a high intensity of thrill.
8 interesting rainforest vacation packages for you to explore:
1. Darien National Park, Panama: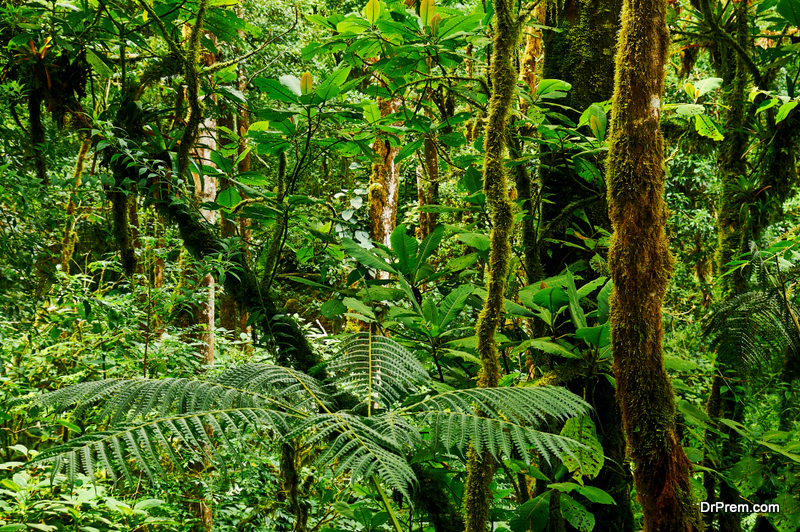 It is protected having the largest forest cover in Central America. The forest runs in a never-ending dark green sheet punctuated by occasional highlands. A wide range of mammals and birds exist. Their calls keep the forest alive and you on your toes.
Not only the emerald green environment, but also the rocky coastal beaches are splendid. Wildness runs along the border between Columbia and Panama occupying about 90% area. Rainforest vacation packages are devoted to customer needs; and, travel agents organize day long guided tours. There is an opportunity of interaction with two local tribes for a cultural exchange.
2. Dominica: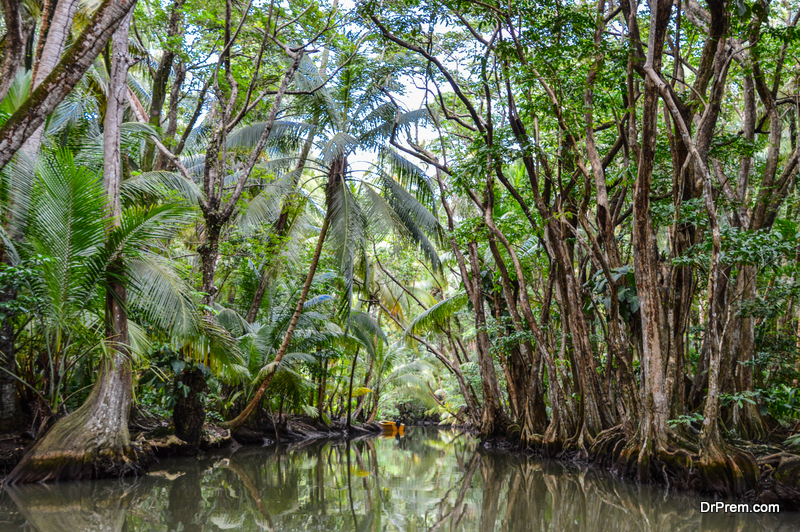 Located in the Caribbean's Lesser Antilles region; this is a small island that has substantial tourist potential. Famous tropical rainforests cannot be thought of without Dominica in mind.  This is a paradise for eco tourists with a quiet ambience. A tranquil stretch of greenery exists and accommodations are eco friendly.
Opportunities for a number of exciting activities are available. You can explore nesting beds of sea turtles and bath in hot springs. A trek along forested highland is a wonderful idea. Breath-taking waterfalls exist and so does exotic fauna. You can stay in 3 Rivers eco lodge offering small tidy cottages.  For an adventurous option, tree houses welcome you giving a feel of being close to nature.
3. Puerto Mal donado, Peru: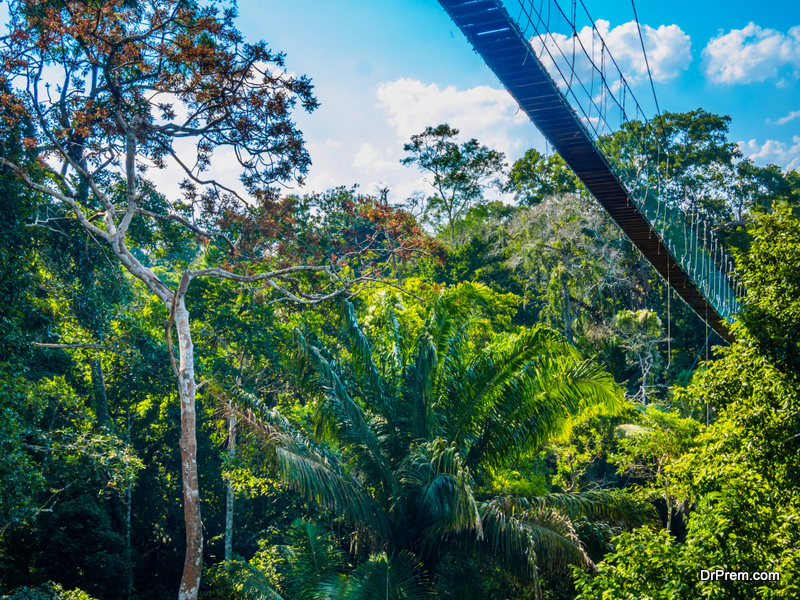 This is located on southern part of Peruvian rainforests and you cross over to Amazon. Forests in Manu region and Tambopata Reserve offer fabulous rainforest trips. Clay licks are ubiquitous attracting birds from different corners of the forest. You have excellent photo opportunities to shoot brightly colored Macaw parrots flocking to clay licks.
These licks have medicinal properties and hence the macaw influx. Monkeys, peccaries, capybaras and tapirs abound the forests. Their predator, the Jaguar cannot be far away. If luck stays on your side, you can have a glimpse of this wild cat with the strongest bite pressure. Jungle lodges are available. They are cozy and eco friendly.
4. Alta Floresta, Brazil: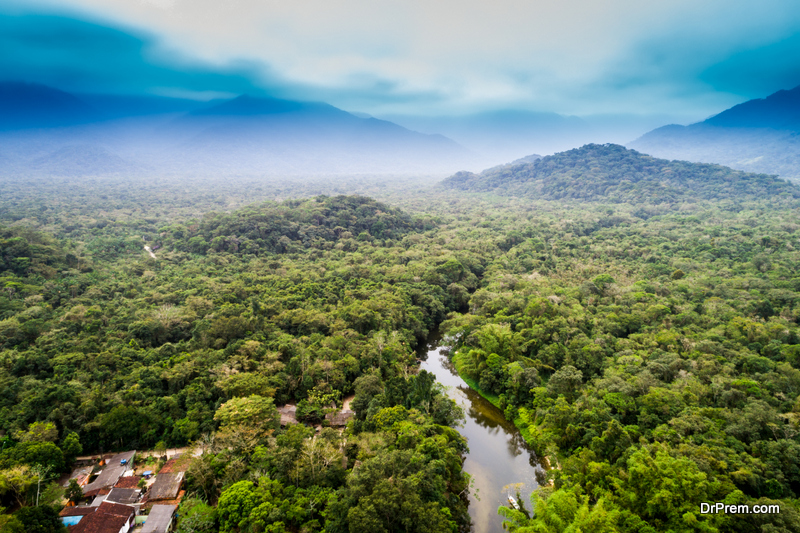 Rainforest vacation packages have turned Brazil, the core of Amazon basin one of the popular tourist hotspots. Alta Floresta is a little low-keyed, nevertheless located in a terrific scenic spot. The Pastoral wetlands which features a unique combination of two contrasting ecosystem is right here. Birds and monkeys native to Alta Floresta are unique and cannot be found anywhere else.
Tropical rainforests tourist attractions are at galore. A cruise along river Cristalino is a lifetime experience. The Cristalino lodge is comfortable answering needs of a tourist. Two huge canopy watch towers installed close to the lodge offer excellent wildlife viewing. Lodge is eco friendly and promises cheap rainforest vacations.
5. Dain tree Rainforest, Queensland: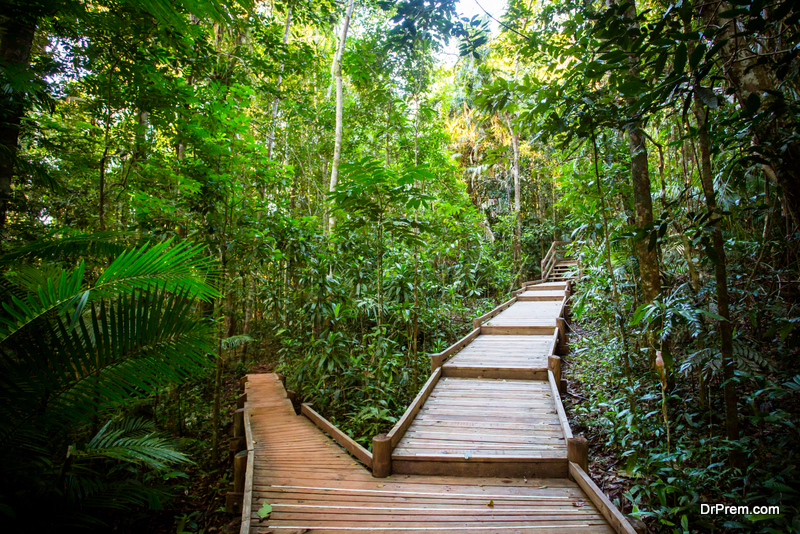 Rainforest vacation packages down under can be very stimulating. Located in Queensland, this reserve forest is one of the most primitive of its kind. Dain tree Rainforest is listed as one of the famous tropical rainforests in the world. The fauna present would enchant you. Spotted tailed quoll, Ulysses butterfly, Bennett's and Lumholtz tree Kangaroos are probably the cutest life forms on earth.
Emerald vines, primitive ferns and thick green canopies take you to a fairyland. This surreal location is the inspiration behind the movie Avatar. On the banks of Mossman River, you have a luxury eco lodge. You can stay Silky Oaks lodge and start expedition to Dain tree national park. Interiors are well furnished complete with bars, lounges and study rooms.
6. Iguaca National Park:
In view of the growing popularity of rainforest vacations, Iguaca national park extending from Brazil into Argentina stands as the prominent one. Cheap rainforest vacation packages have made it possible for tourists to explore this wild stretch having jaw-dropping waterfalls. This is result of geo-morphological changes for volcanic eruptions dating back to 500 million years. It includes some remarkable flora and fauna of which the giant otters and anteaters are famous.
7. Danum, Malaysia: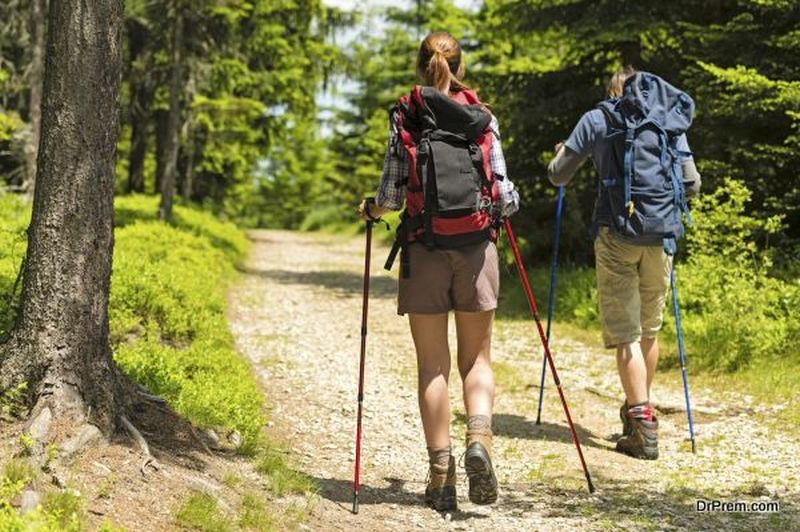 This covers a stretch of 438 square kilometers of forested lowlands with a diverse range of plants and animals. Rainforest vacation packages have popularized this Eden close to Sabah. Wild life includes Sumatran Rhinoceros, Orangutan, gibbons, mouse deer and clouded leopard. Jungle trekking, swimming in rivers, bird watching and night jungle safari are some of the exciting activities offered.
8. Gabon, Central Africa: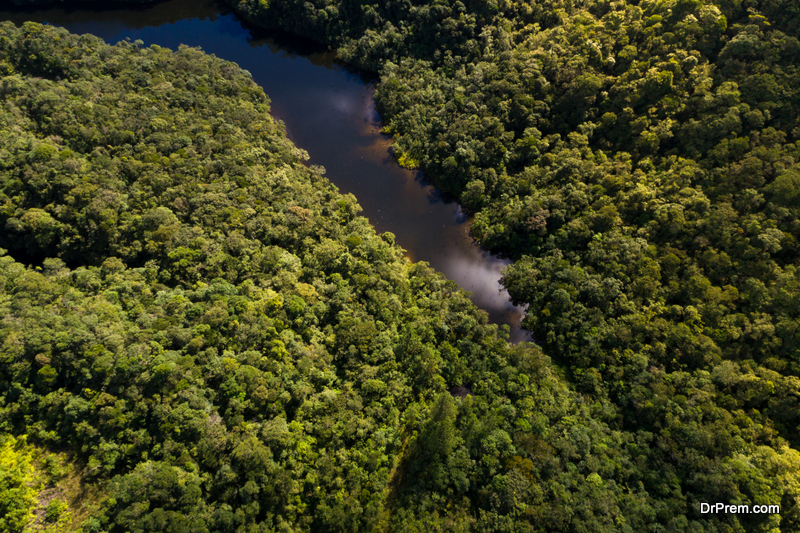 Tropical rainforests tourist attractions are synonymous with Central Africa for its romantic connotations. Africa is the wild capital of the world. Forest cover occupies 80 % of the country. Conservation efforts are brilliant, flora and fauna exotic. For its pristine forest cover, this region is fondly called ' The Last Eden ' in Geological and botanical circles.